Fully furnished Apartments
Reasonable Pricing
We avoid charging anything extra from our guests apart except room charge. To make our guests feel special, we offer special discounts if they plan or wish to stay longer.
Skilled and trained staff
Kindly contact us on +91 9015080080, and we assure you the best deal with fantastic weekend packages, unique extended stay offers on our house rent in Hyderabad.
Service Apartments Hyderabad – Available @ Olive
Deluxe Rooms
Are you looking for a house on rent in Hyderabad ? olive serviced apartments offers you a Deluxe room with an area of 230 sq.ft including attached bathroom & shared balcony/Kitchen usage at a price less than the house rent. Deluxe room provides you with a luxurious ambience that includes King size bed, flatscreen TV with TaTa Sky HD along with bed and breakfast meal. Rooms are fully furnished and well-designed, which are suitable for single executives as well as couples. Our Olive apartments are popularly known as Apartment holidays among visitors.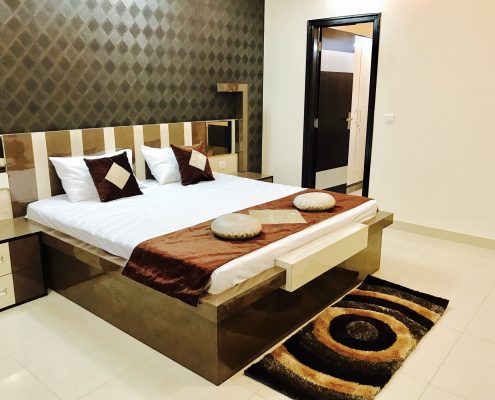 One Bedroom Apartments
We also provide one bedroom serviced apartment which is spread across 500 sq.ft and is specially designed for families and kids. It features rooms that have Queen/King size bed with attached bathroom, separate living room, a comfortable sofa and dining table to enjoy meals together in a fully equipped kitchen.
---
About Us
We believe in giving complete privacy to our guests. Our apartment holidays are different from others as these apartments are well structured and furnished. We ensure to make your holidays special and comfortable, and in that case, we also offer a separate kitchen to our guests to cook food as per their own choice.
Our holiday home lettings is not just an apartment to spend few days and nights as it is an apartment which gives you a homely environment when you are staying far from your own. However, our trained staff is available and capable to deal with your requirements.
Accessible in all sizes

Deluxe rooms are available with BnB plan, with non-sharing 1/2/3 bedroom serviced apartments at affordable rates.

Separate Kitchens and Living Rooms

We provide proper kitchen with all necessary equipment for guests with our (1,2 and 3 bedroom apartments). Olive apartments offer all the kitchen equipment covering stovetop to microwave and other cookery items with a relaxing seating couch available in living rooms.

Cleaning & Linen Changes included

Housekeeping services include towels, bed sheets, Wifi internet, Tata Sky HD TV, gas and all other apartment requirements will be fulfilled under one rental.

A team of experts in hospitality

We believe in giving 24*7 hospitality services to our guests to fulfill their basic needs in the most efficient manner. It makes them absolutely satisfied with our services as long as they stay in Hyderabad Olive serviced apartments.
Customers readily accept that they feel glad and honoured after staying in Olive Hyderabad serviced apartment. A customer said, "It was my first-time experience to stay in studio apartment in Hyderabad, and I got all the facilities which I was looking for and a homely environment."

I was in Hyderabad for two weeks as I was searching a job. However, I was worried about my stay because hotels were too expensive and I could not afford to eat food outside every day. But when I got to know about Olive serviced apartment it made me so happy that I got separate kitchen with all equipments and room with wifi facility. It is the best option of houses to rent for weekend.

I want to say that Olive Hyderabad serviced apartments are beautiful and well furnished. Cleanliness is one of the major aspect which made me think to spend my holidays in Olive studio apartments.

In hotels, you cannot get free wifi facilities and proper parking space. Unless and until you are not staying in big budget hotels that may charge more than your expectations. But olive serviced apartments is one rental homes in Hyderabad who cares for its guests and gives lot of facilities under one rental money.

Olive Apartments in Hyderabad are not too far from the main city. Olive apartment is just few steps away from the main market where you can easily get shopping complexes, medicine shops, bar and restaurants, etc.
Highly Rated On Trip Advisor
With our persistence and hard work we are successful in making our name in the market. As we feel the pride that we have been consistently receiving appreciation review from TripAdvisor and other travel booking websites. We always get encouraged when we receive feedback messages from our guests on social media platforms like Facebook and Twitter.
100% Cash Back Guarantee
If in any case our guests doesn't like our services because of any reason during their stay at Olive apartment we ensure them that their money will be refunded.
Lowest Price Guarantee
To keep your budget in mind, we are best in offering the most comfortable rooms and facilities.
No Hidden Charges
We never overcharge from our customers and we always ensure informing our clients that all our apartment rentals are inclusive of tax.
ABOUT THE CITY of HYDERABAD
Hyderabad is the capital city of Telangana state. However, Hyderabad is also a hub of the technology industry and have a chain of various renowned restaurants and shops. It also has traditional symbols like Golconda Fort and leading diamond trading centre. Visitors do have a charm of visiting 16th-century mosque whose four arches support minarets; it also considered old city landmark near long-standing Laad Bazaar. Hyderabad also has the largest population of 6.8 million.
Hyderabad is 500 meters above from the sea level and situated on the Deccan Plateau. Most of its area is rocky, and Paddy is the main crop grown including other crops like Bengal gramme, groundnut, sugarcane and sunflower.
Favorite places to visit in Hyderabad
Golconda Fort
Char Minar
Qutub Shahi Tombs
Mecca Masjid, Old Hyderabad
Shri Jagannath Temple
Sri Rama Chandra Swamy Temple, Ammapali Village
Ramoji Film City
Nehru Zoological Park
Salar Jung Museum
Hussain Sagar Lake
Nalgonda
History of Hyderabad
Mir Qamar-ud-din Khan was the one who founded Hyderabad state and was the governor of Deccan under Mughal Empire from 1713 to 1721. But In 1724, Qamar-ud-din Khan had once again resumed his rule under the title of Asaf Jah. His other title Nizam ul-Mulk became the title of his position "Nizam of Hyderabad". However, in archaeological survey archaeologists have found Iron Age sites in Hyderabad that are 2,500 years old.
In 1947 after collaboration with India Hyderabad became a princely state of India. But immediately after joining hands with India the Nizam had to sign an Instrument of Accession to the Union of India to keep Hyderabad integral part of India. In 1956, by 1st of November, the province of Hyderabad was divided into Karnataka, Maharashtra and Andhra Pradesh by their language. So, later Hyderabad came into the Telugu speaking community and became the capital of Andhra Pradesh.
OLIVE SERVICE APARTMENTS IN HYDERABAD
If we talk about our USP than all our vacation home rentals apartments are non-sharing, with unique kitchen facility. We are self-catered serviced apartments which are full of amenities like washing machine, cooking gas, WiFi Internet, Tata Sky TV, etc. The Olive serviced apartment is the perfect place for those who want best comfort home for shorter and longer duration. We take care of everything and offer services like housekeeping, linen changes, utility bills management and all maintenance services.
Olive vacation home rentals are artistically designed and rooms are luxurious enough to make you feel like King with King/Queen size bed, attached bathrooms, studio apartments, Tata Sky TV, Studio Apartments with sitting area capacity and individual Kitchen, One Bedroom, Two Bedroom and Three Bedroom apartments also include private Living Rooms with Kitchens. We care about your privacy and give you peaceful stay with more comforts. All our rooms are air conditioned with noiseless Daikin split air conditioners. Olive holiday homes in hyderabad provide continuous water supply of both hot and cold water as it's our promise that there will be no delay or any trouble to our guests when it comes to 24*7 water supply.
Olive serviced apartments are Wifi connected, and our guests can easily enjoy the free Wifi internet services as much they can. Particular attention has been given to clean the apartment in which our team regularly change bedsheets, towels and others. We also emphasis on power backup system as our guests should not suffer because of unscheduled power cuts. Apart from continuous power supply car parking is another factor which attracts tourists towards our apartments. Every visitor feels amazed when they get enough space for their vehicles to park. However, in other hotels and apartments, car parking facility is not available easily.
Olive serviced Hyderabad apartments are beautifully furnished with unique designs. All our rooms are luxurious and comfortable which are built according to your needs and likings. One can book our apartments for short, and longer stays as per the requirement of our guest. Our guests can enjoy their stay at Olive apartments by spending a limited budget.
In our Olive apartments, you can get own kitchen filled with all necessities. Modular kitchen is available with microwave, refrigerator and stove top. We give our guests best comfortable rooms like bedrooms with attached bathrooms, living rooms with couch seating and dining table. Our customers get a real time experience in Olive which gives them same comfort and privacy as our clients get in their homes.
1What are the various accommodation options available for guests?
To cater the needs of our guests Olive service apartments have different sizes of units which include Studio Apartments in Hyderabad with Kitchenettes and One Bedroom Apartments with Living Rooms & Kitchens. However, customers have options to choose stay in two bedroom apartments that come with Two/Three bedrooms have attached bathrooms and spacious living room with dining and kitchen facilities. Studio apartments for rent in Hyderabad are our one of the best apartments which are completely suitable and comfortable for families and couples.
2What are the rentals and stay requirements?
Our apartment's USP is to offer rooms with unique designs and space to bring comforts at the most affordable prices. For the convenience of our guests, there is a flexibility of stay duration as guests can rent by the day, week or month. We have discounts on rentals for Weekly & Monthly to our guests who desire for long-stay. Our apartments are popular among masses as it is considered as holiday homes in Hyderabad.
3Who are the typical guests of our apartments?
Our team is capable enough to serve best to all kind of guests. We are popular among tourists who come for holidays and among working class people who visit Hyderabad for their corporate events.